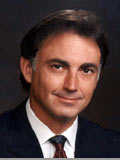 JEFF BAIZE
Founder and CEO
Brookhurst Development

Jeff D. Baize is the Founder and CEO of Brookhurst Development Corp., a national development firm that focuses exclusively on public-private partnerships ("P3s") with federal, state and local governments. Brookhurst is a national leader in the acquisition, development, and management of governmental facilities and social infrastructure. With offices in Newport Beach, Sacramento, Indianapolis and Houston and aprofessional management staff with over 150 years collective experience in the design, construction, development and financing of public agency facilities, Brookhurst has become renowned for bringing to public-private ventures innovative deal structuring and creative P3 development concepts.
Mr. Baize is noted for his P3 expertise having participated in the completion of over half a billion dollars in development ventures. He is recognized as a foremost authority on delivery and financing methodolgies for P3 projects having authored many articles on the subject including co-authoring the book "School Facilities Planning: A Guide to Laws and Procedures for Funding, Siting, Design and Construction"wherein he authored a section on public school development through private financing and development. He has assited the California Office of the Governor on drafts of P3 bills and, at the request of state senators, has testified to the Senate Committee on Governance and Finance and the Assembly Committee on Local Government on P3 matters. He has advised such state agencies as the California Joint Legislative Budget Committee, the State Allocation Board, the Administrative Office of the Courts, Legislative Counsel and the Judiciary to the Legislature. He has also been involved in new P3 legislation in the states of Arizona, New Mexico, Texas and Washington DC. Mr. Baize is recognized as an expert witness on P3 matters by the California court system.
Brookhurst has been an active leader in real estate investment banking and capital funding since its formation in 1996. Through Brookhurst, Mr. Baize worked internationally including advising the Peoples Republic of China in Shanghai on recapitalization of several of their landmark assets as well as providing investment banking services to Japanese companies in the sale of their U.S. holdings. Prior to his international endeavors, Mr. Baize was Vice President of The Prudential Insurance Company overseeing the financing and equity investment transactions for Prudential's 9 billion dollar Western U.S. real estate portfolio.
Mr. Baize holds a Bachelor of Architecture and MBA degrees, both conferred at the University of Texas where he was also a faculty member teaching real estate development and finance. He has also conducted studies in urban development at Oxford University, England. He is an Assoc. Member of the American Institute of Architects, a licensed California real estate broker, and current Chairman of the Public-Private Partnership Committee for the Western Council of Construction Consumers.
In 1989, Mr. Baize founded the Real Estate Investment Advisory Council (REIAC), which has since grown to become a recognized national forum for senior officers involved in transactions involving commercial and institutional-grade real estate investments.
[email protected]
www.brookhurstcorp.com