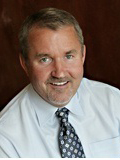 Chapin Bell
REIAC Director
President

R. Chapin Bell is President of the PB Bell Companies, which focuses on several areas of the multi-family industry in Arizona: management of approximately 5,000 units in the Phoenix and Tucson metropolitan areas; development and acquisition of apartment communities in the state; processing of condominium conversions; and general contract construction services for PB Bell-developed communities and third party developers. PB Bell also focuses on "for sale" condominium developments.
Bell, a licensed real estate agent with over 14 years of industry experience, oversees the daily operations of the management and development arm of the company. He was the 2007 Chairman of the Arizona Multihousing Association, and has also chaired the Political Action Committee (AMAPAC) and Finance, Government Affairs, Phoenix Education Conference, Strategic Planning and Trade Show committees and Family Transitional Housing Subcommittee for the Arizona Multihousing Association.
He is currently on the Board of Directors and Facilities Committee for UMOM New Day Center Homeless and Transitional Shelter for families.