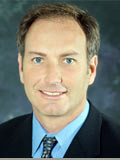 CHRIS BLACK
Senior Vice President – Acquisitions
Cornerstone Real Estate Advisers

Christopher Black is a Senior Vice President responsible for sourcing new investment opportunities in the Western United States for Cornerstone Real Estate Advisers. This involves acquiring existing properties as well as providing joint venture equity for development projects. These investments include office, industrial, retail and multi-family properties. 
Cornerstone Real Estate Advisers LLC, with affiliate and subsidiary offices in the US, UK, Europe and Asia, is one of the world's largest real estate investment advisers. It provides core and value-added investment and advisory services, including a comprehensive suite of real estate debt, equity and securities expertise and services, to institutional and other qualified investors around the globe. Cornerstone is a member of the MassMutual Financial Group. Cornerstone and its subsidiaries have assets under management totaling more than $32 billion.
Prior to joining Cornerstone in 2004, Mr. Black spent five years as a Vice President at Summit Commercial responsible for Development, Acquisitions and Dispositions. Prior to joining Summit Commercial, Mr. Black spent four years at Copley Real Estate Advisors/AEW Capital Management, where he was responsible for Asset Management, Acquisitions and Dispositions. Mr. Black began his career at Price Waterhouse as a real estate consultant.
Mr. Black received a BS degree in Business Administration with an emphasis in Real Estate Finance and Development from the University of Southern California.
[email protected]
www.cornerstoneadvisers.com