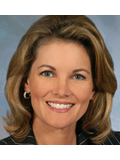 Cheri Brady
Director & Founding Board Member
Vice President & Senior National Account Manager, National Commercial Services Division
First American Title Insurance Company

Cheri Brady is Vice President and Sr. National Account Manager for the National Commercial Services division of First American Title Insurance Company, an international provider of title and information related products and services and the longest established Arizona title insurance underwriter.
Ms. Brady began her title and escrow career in 1977 in Boise, ID. In 1987 she moved to San Diego, CA to take the position of VP, Regional Director for HomeFed Bank's Escrow Department where she managed the activities of a region with 6 branches. In March of 1993 Ms. Brady moved to Phoenix, AZ and joined the First American family and during her 25 year tenure with First American she has worked in both the National Commercial Services and Home Builder divisions.
Ms. Brady currently serves as a Director for the Real Estate Investment Advisory Council (REIAC) from 2000 to present (removed verbiage). She was an Honorary Commander of the 310 Fighter Squadron at Luke Air Force Base (2009 to 2011), is a member of Fighter Country Partnership (removed verbiage). She completed her second term on the Board of Valley Partnership (2002 to 2009) and prior to that term chaired its State Legislative Committee where she followed legislation that affects our real estate community. She served as a Director for The National Association of Industrial and Office Properties of Arizona (NAIOP) from 1994 to 2008 and chaired the Public Affairs Committee. In 2001 she was appointed to the National NAIOP State and Local subcommittee that focused on development issues nationwide.
Ms. Brady earned a B.S. of Business Management from the University of Phoenix. Her husband is Dr. Reed H. Day, Oral and Maxillofacial Surgeon and has an adult son, RJ Brady. Ms. Brady enjoys golf and wine collecting as hobbies.