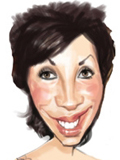 Bess Caldwell
REIAC Director
GOVIG

Bess is a Certified Senior Account Manager who has held both the #1 and #2 spots globally within the Management Recruiters International Network and was named International Account Executive of the Decade (2000-2010). She has over $14 million in production and has been a Pacesetter/President's Club winner for 20 consecutive years. She has been part of the Govig family for nearly 21 years and is a recruiter with a very eclectic background and a personality to match.
Bess began her career in the military with multiple international assignments. After leaving the world of buzzing bullets, she continued her business experience in Big 4 Accounting, Bio-Tech Start Ups/Venture Capital and then a three-year stretch in the land of High Romance working for writer Danielle Steel. Such diversity has given Bess the insight and ability to problem solve with a focused lens and a warped sense of humor.
Bess has successfully partnered with companies to place talent in multiple verticals across multiple industries locally, nationally and internationally. Her markets include construction, real estate, manufacturing, business services, healthcare and technology.
Bess's philosophy and her success are based on the fact that "People are hired for what they can do and they are fired or quit because of who they are". She doesn't help find people "jobs". She is only interested in identifying someone's next "opportunity" and doesn't equivocate about it.