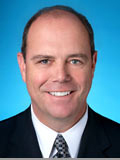 MARK FORBES
Executive Vice President
City National Bank

Mark J. Forbes is executive vice president and manager of the Real Estate Division of City National Bank. He also serves on the bank's Executive Committee.
Mr. Forbes is responsible for providing a wide range of financial services to real estate developers andinvestors in markets in which the bank operates. He assumed his current position in 2007.
He joined City National in 1992 as vice president and asset manager in its former Real Estate Special Assets Department and, the following year, was named team leader in the Real Estate Division. He was promoted to senior vice president in 1997 and appointed assistant division manager in November 2004.
Earlier in his career, Mr. Forbes served as a commercial banker with First Interstate Bank and a vice president in Wells Fargo Bank's real estate division in Beverly Hills. He also spent seven years with two private real-estate development companies. He began his career in 1980 in Union Bank's management training program.
He is a member of the executive committee of the Lusk Center for Real Estate Development at the University of Southern California Marshall School of Business, and an executive committee member and former president of the City of Hope's Los Angeles Real Estate Council. Mr. Forbes also is a former vice-chair of Habitat for Humanity, Los Angeles chapter.
His other industry affiliations include the Building Industry Association of Southern California, International Council of Shopping Centers, National Association of Industrial and Office Properties, Risk Management Association and the Urban Land Institute.
A resident of La Crescenta, Calif., Mr. Forbes earned a bachelor's degree in business administration from the University of Denver in Denver, Colo.