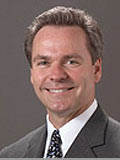 JOHN GEBHARDT
SEG Advisors

John A. Gebhardt is a Principal in the real estate consulting and investment firm of SEG Advisors. In such role he is active in project consulting and asset management, development and leasing of retail, mixed-use and office properties. He is currently working in an advisory capacity with LNR Property Company on the 1.3 million square foot Boulevards mixed-use project in Carson, CA, with Panattoni Development Company on the mixed-use Piemonte project in Ontario, CA, along with various other retail centers in California and Arizona. He also serves as an expert witness in real estate matters.
Prior to such role at SEG, Mr. Gebhardt served as the Los Angeles area Partner and Project Principal for Panattoni Development Company. In such role he was responsible for all ownership activities in the Greater Los Angeles area, including leasing, acquisition and development for retail, mixed-use and office properties.
Previous to Panattoni Mr. Gebhardt was a Project Partner with the J.H. Snyder Company, one of the largest commercial real estate developers in Southern California. In this role he focused on the development and leasing of various retail, mixed-use and office properties including Bella Terra in Huntington Beach, The River at Rancho Mirage, West Hollywood Gateway and the NoHo Commons project in North Hollywood, CA.
Prior to joining the J.H. Snyder Company, Mr. Gebhardt was with CBRE, the world's largest real estate service company. He served as a Managing Director for the San Fernando Valley (L.A.) office, the West Los Angeles office and in Charlotte, North Carolina. During such tenure he was licensed as a Real Estate Broker in California, North Carolina and South Carolina. In such roles he helped formulate the strategic plan for the respective geographic areas and also served as the Co-Director of the firm's Institutional Services Group for the Los Angeles metro region with a focus on landlord leasing and management, mortgage banking and investment sales.
Prior to his leadership role at CBRE, Gebhardt was with Voit Development Company, a full-service real estate company based in Woodland Hills, CA. During his tenure at Voit, he achieved the title of Senior Vice President. He was responsible for the company's suburban development projects in the Los Angeles area, and oversaw the growth of the company's asset management business. He was also Director of Marketing for Warner Center Properties, a 2.8 million square foot mixed-use project in Woodland Hills, as well as development manager for the 80-acre Simi Valley Business Center.
Mr. Gebhardt began his career as an associate with Price Waterhouse, where he earned the credential of Certified Public Accountant from the state of California. He earned his Bachelor of Arts degree in Economics from UCLA, and has participated in Harvard University's Executive Education Program and Stanford University's Advanced Management College. He is a licensed Real Estate Broker in California, is a member and former Southern California Board Member of the International Council of Shopping Centers (ICSC) and is a former Co-Chairman and Board Member of the Los Angeles Commercial Realty Association (LACRA). He also has served as an Executive Committee Member for the UCLA Real Estate Alumni Group. He holds the designations of Real Property Administration (RPA) and Facilities Management Administration (FMA) through BOMI. He is also an active member of REIAC.