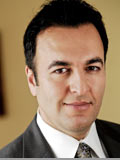 PAUL HABIBI
Lecturer
UCLA

Paul is a lecturer in real estate at the UCLA Anderson Graduate School of Management, where he has been a finalist for the Teacher of the Year Award every year he has taught MBA students. He teaches in the areas of real estate finance, development and social entrepreneurship. Paul began his teaching career at UCLA in 2004. 
Widely quoted in the media, he has appeared on BBC World News, Bloomberg, CNN, FOX News, NBC's The Today Show, NPR, and all major dailies including the Wall Street Journal, New York Times, and Financial Times. A highly sought-after speaker, Paul regularly presents to leading business, government, and nonprofit organizations
Paul is Principal of Habibi Properties, LLC, which owns over 1,600 apartment units in the Los Angeles area, and is the Managing Member of the Arrowhead Residential Funds, which invest in distressed housing in Kansas City, Missouri.
Paul is also Principal of of Grayslake Advisors, LLC, which provides expert witness services to national law firms and Fortune 500 companies.
Paul previously worked as an Investment Banking Associate at Bank of America/Merrill Lynch, Manager of Transaction Support with The Walt Disney Company, and Audit Manager with Arthur Andersen LLP.
Paul holds an MBA with Highest Distinction from the University of Michigan, under merit scholarship, and a BA in Economics from UCSB. He is a licensed CPA and Real Estate Salesperson in the State of California. Active in the community, he serves on the Board of Directors of Pacific Charter School Development, and as director of the Los Angeles Streetcar project.
Education
MBA 2003, University of Michigan
B.A. Economics/Accounting 1995, UC Santa Barbara