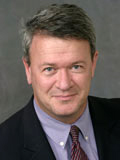 Bill Leffler
Vice President, Equity and Structured Finance
CBRE
Bill Leffler is a Vice President in CBRE's Multihousing Group, focusing on equity and structured finance transactions for new construction, renovation/repositions, acquisitions, partnership buy-outs and deals in any form of transition.
Prior to working exclusively with the Multihousing Group, Mr. Leffler spent nine years with the commercial side of the Capital Markets Group, with specific duties including arranging structured finance transactions involving high-leverage senior loans, mezzanine debt, preferred equity and joint venture partnerships, primarily for for-rent and for-sale residential and mixed-use urban infill developments. The transaction sizes ranged from $15 million to $166 million.
Prior to working with CBRE, Mr. Leffler was a Vice President at Holliday Fenoglio Fowler, where he arranged structured finance transactions involving senior loans, mezzanine debt and joint venture equity, primarily for condominium conversions and retail developments. He began his real estate career with Arthur Andersen & Co.'s real estate and business valuation group in Washington, D.C. He also worked with Chadwick, Saylor & Co., a boutique pension fund real estate advisory firm in Atlanta.
Mr. Leffler is also a member of the Real Estate Group of Atlanta (REGA), a non-profit real estate industry group dedicated to ongoing professional education and career development, where he served as past President and Treasurer.