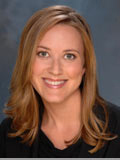 JESSICA LEVIN
Director, Acquisitions
Intercontinental RE Corp

Ms. Levin works in Intercontinental Real Estate Corporation's west coast office, located in Los Angeles. Ms. Levin helped spear-head the opening of the office in 2007. As Director of Acquisitions, Ms. Levin is responsible for evaluating acquisition opportunities for Intercontinental sponsored funds, with a primary focus on the Western United States. In this role, she is responsible for opportunity identification andtransaction execution. She oversees the solicitation, analysis, underwriting and negotiation of all real estate acquisitions. Ms. Levin also participates in the documentation, due diligence and reporting of these transactions. Throughout her career, Ms. Levin has helped manage and acquire over $1.5B in real estate transactions. Previously, Ms. Levin held positions at Colony Realty Partners, Arden Realty, Jones Lang LaSalle and Archon Group. Ms. Levin has been featured as a California Deal Maker in the California Real Estate Journal's Annual Dealmaker's Issue, in Real Estate Forum's Next Generation of Leaders, in the Women of Influence issue of Real Estate Southern California and most recently in Real Estate Forum's 40 Under 40 Issue. Ms. Levin earned her BA from the University of Wisconsin-Madison.