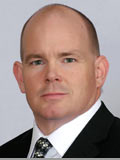 MICHAEL MCCANN
Advisory Board Co-Chair
Managing Director
HFF LP
Michael McCann is a Managing Director in the Orange County office of Holliday Fenoglio Fowler LLP (HFF) and has over 22 years of institutional real estate investment management experience. He is responsible for investment advising, underwriting, and marketing of investment sale and joint venture equity transactions for institutional quality properties in southern California and other western U.S. markets. 
Mr. McCann joined HFF in December 2011 after serving as Principal at Adanac Realty Advisors since 2009. Prior to Adanac, he worked at ING Clarion Partners where he sourced, structured, and closed approximately $3.5 billion of direct real estate investments in multiple property types (industrial, office, multi-family, retail, and hotel) and all investment risk profiles (core, core-plus/value-add, and opportunistic), and established Clarion's southern California office in 2004. His experience also includes senior roles in acquisitions, asset management, and development at Kennedy Associates Real Estate Counsel, Birtcher Property Services, Wald Nickell Realty Advisors, and Bentall Development Company.
[email protected]
www.hfflp.com