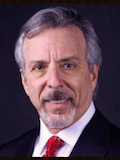 GERALD S. MONASH, President
Lancet Realty Advisors, Inc.
Jerry is the Founder and current President of REIAC's Southeast Region and was responsible for expanding the original Los Angeles organization to a national group, when he created an Eastern U.S. Chapter in Atlanta in 1994.
Jerry is a 32-year commercial real estate veteran. He has been directly involved in the acquisition,disposition and financing of more than $5 billion in transactions, spanning all of the major user and income property types throughout the country. As President of Lancet Realty Advisors, he leads dedicated national advisory teams focused on the acquisition, disposition and leasing of real estate for major corporations. Lancet's largest long-term current client is Walmart Realty.
In his most recent prior position as Executive Vice President, Investment Services, Jerry both created and managed international brokerage firm NAI Global's national institutional Investment Services Group and its national loan sales platform. Prior to NAI Global, he was employed by MassMutual Life Insurance Co. and Cornerstone Real Estate Advisers, Inc., its wholly-owned pension fund advisory subsidiary, where for a total of 10 years, he created and headed up their respective national and southeast regional dispositions programs.
In addition, he was CEO and Managing Partner of Broad Street Capital, LLC, an acquisition advisor to 43 European institutional investors; Senior Vice President at Love Funding Corporation, a national real estate lender; a full-time underwriting contractor for MortgageRamp (GMAC Commercial Mortgage) and Credit Suisse; and an investment sales broker at Grubb & Ellis.
Jerry is a graduate of the University of Miami in Coral Gables, Florida, a CCIM designee (former South Florida Regional Chapter head) and a member of the Honorary Board at Georgia State University's Real Estate Department.