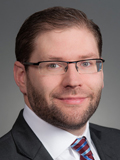 Mark A. Morrison, CFA®
Director and Portfolio Manager, Private Equity Group
AEW Capital Management
Mr. Morrison is a Director and Portfolio Manager in AEW's Private Equity Group. Based in AEW's Boston office, Mr. Morrison is responsible for managing portfolio accounts across the core through value-added spectrum that represent all major property types and most significant U.S. markets, in addition to sales and new acquisitions. Mr. Morrison has 16 years of real estate experience spanning portfolio management, acquisitions and accounting. Prior to transitioning to the role of Portfolio Manager, Mr. Morrison served as an acquisition specialist for several years responsible for sourcing, underwriting, negotiating and closing new investment opportunities. Prior to that, Mr. Morrison was based in AEW's Singapore office where he served as Financial Controller for AEW Value Investors Asia, a pan-Asian closed-end fund. Prior to joining AEW in 2008, he was a Senior Accountant at Ernst and Young, with a primary focus on publicly traded REIT's. Mr. Morrison has a B.S. in Business Administration from Babson College and is a Certified Public Accountant, inactive. Mr. Morrison is also a CFA charter holder.